I think I have finally understood the expression "tickled pink" this week.
Yeah, yeah, I'm kinda slow, but I think I needed an overdose of it to finally feel it.

And I've definitely overdosed this week.



Discovered this week someone started a Water Tribe trope!
http://tvtropes.org/pmwiki/pmwiki.php/Main/WaterTribe

That someone actually took the time to do this...wow, I am very very humbled and touched. I never thought anyone else but me would spend any time on old Zhao there. Who ever you are, mysterious tropes editors, thank you!

Even though I have stopped Water Tribe, there's still a drawing or two of Zhao (WT version) that pops out once in a while.
aklckhflklgjak!
Thank you, blackharpygoddess on DA!
http://blackharpygoddess.deviantart.com/art/Chibi-Randomness-Time-175426395
(See individual pic below)

I've managed to get my hands on another Agni Kai Zhao toy, this one painted...very badly, ha ha! Possibly a reject (poor him). I will try to fix him.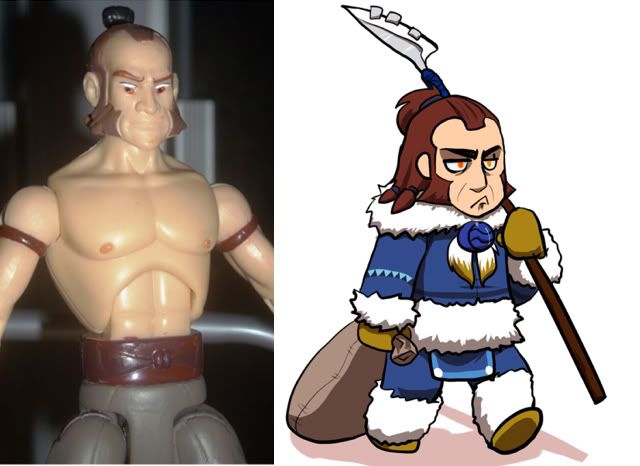 I can't believe people have put me on their influence meme map.
http://alexds1.deviantart.com/art/Influence-Map-meme-176237986

Yeah, I'm pointing my finger at you, alexds1. I'll say it again: I think you've stepped way ahead of me, with your hard work and vastly superior coloring skills.

This makes me feel like I should be thanking absolutely everyone, near and far, which I've had contact with over the years: all the coworkers, all the comic creators, the writers. There are just too many to name, but I want to send out a huge thank you to you all.

You have all helped me move forward and you continue to do so. Your art, skills and stories are pushing me to continue and inspire me.
To all of you, thank you.
I will try and say so privately to each and everyone of you when the opportunity presents itself.