Apparently there was a very very early test screening of the Last Airbender recently. Two people posted their thoughts on the AICN website (ah, AICN- I got a love-hate relationship with ya).



The thing about early test screening is everything is extremely rough. Scenes unfinished, editing still work in progress, and forget about most of the SFX. In animation, whole sequences could be reworked and even re-animated, but I don't know if they do that in live action.

A few quotes that made me lol:

"...Plus it was fun to watch Noah Ringer's double (a woman with a shaved head) performing the fight scenes – they hadn't gotten around to doing a face replacement yet..."

HA ha! Ember Island Player!!

"...Out of the adult actors, the guy who portrayed Commander Zhao should never be allowed to act again. His line reading was atrocious, especially when acting next to others such as Cliff Curtis (although he's been better) and Dev Patel . They were actually the only ones coming out of this one unscathed...."



*Gigglesnort* Oh man, I can't wait to see this XD

"...when a certain baddy punches a fish to death. The horror the horror!"

That's the no self control guy! (so fire may be added later), but I could totally imagine Zhao just repeatedly punching that koi fish.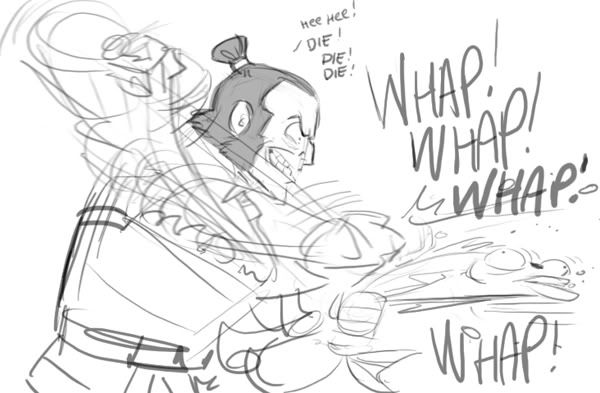 You can read the complete comments here:
http://www.aintitcool.com/node/43869

Be warned though: there can be spoilers, it may darken your mood (or make you laugh, depending), and you can't take reviews from early screening as an accurate portrayal of the final product.
So avoid reading if you prefer to leave your mind free of any preconceptions and prefer to go see the film with just your preferred level of expectation, no matter how high or low it could be.