First, the boring stuff:
Stayed home due to sneaky, sudden flu attack that started last night.
Went and got meds plus many boxes of tissues. Went home and crashed in bed until about 4pm.
I am feeling loads better, if still clogged up. Even my ears feel stuffed. I should be able to get to work tomorrow, and hopefully not infect the rest of the crew (though I probably got it from one of them last week, as part of the studio seemed affected).

Now, on to the stuff I found out after I woke up.


I knew the Flight booth location (#2329), but I didn't know WHERE exactly we were: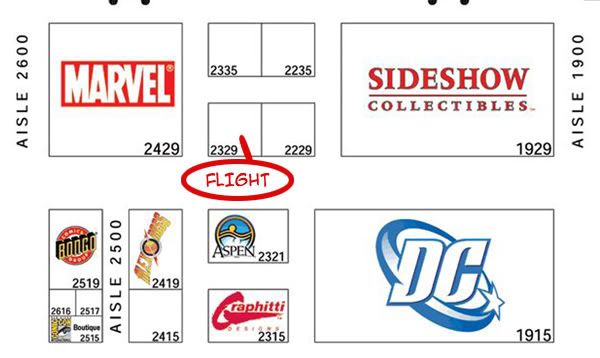 Holeeee Frik. O_O
We're right in the middle of the battlefield this year. Right between freakin' Marvel and DC. The traffic is going to be insane!
We're going to need a million eyes around the table.
This year is going to be a challenge.

If you're curious to see the entire floor plan, Davidsdoodle on DA has posted it. To see it bigger, go to the right and click on download.
For those who have never been to SDCC, this is just the main exhibit hall. One floor above are the panel rooms and Hall H, which can hold thousands of people.
http://fc05.deviantart.com/fs49/f/2009/194/8/9/San_Diego_Comic_con_Location_by_davidsdoodles.jpg
If you need to go somewhere fast and you know the table location, do not attempt to walk in the hall! Too much traffic. Just go in the entrance lobby and then dive in to one of the doors nearest the table or location you want to reach.
Do not eat con food- not good. Plenty of restaurants within walking distance plus a Ralph's Grocery store.
Bring water, good shoes.

Last, but not least, http://www.lastairbenderfans.com/ have posted mug shots of the main cast for The Last Airbender.


Aang, you do look like you've woken up from a 100 years of bad sleep inside an iceberg.
That or the police arrested you for illegal airbending.

Bigger pictures got posted so I've updated this post.
Katara looks like she's wearing some sort of ceinture flechee.
OMG...they're Quebecers!! French Canadians in my Avatar, ha ha!
http://en.wikipedia.org/wiki/Ceinture_fl%C3%A9ch%C3%A9e

I better get up and move a bit, if I want to be able to sleep tonight.