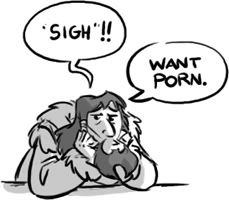 Got a call around 4:30 pm tonight asking that I come in at work tomorrow, Saturday, at 9am. Usually, if I have to work weekends, I at least allow myself the luxury of getting up a bit later. Not this time.
Ah well. It must be done.
(plenty of other people get up even earlier to go and work Saturday, so I shouldn't whine).
I want to draw more Water Tribe stuff. Damn it Zhao, let me go!
Dang it. No time.
Except for small Arluk doodle.
(on another note, started doing exercise again and boy are my two arms super sore. Sore enough that it is a pain raising them to put my headphones on, ha ha!)
Nothing much to say (work work work), except this minuscule doodle appeared while I was trying to get work done.
Current Location:

Burbank

Current Mood:

"sigh"

Current Music:

Listening to Pandora radio