Gah!
If I was a proper writer, I could divide the amount of dialogue by 4! I'd find the right words for what needs to be said.
In the meantime, you'll have to live with the verbose version I'm afraid.







*bangs head on desk*
Stupid brain. Akward writing and all that...
Must be overworked. Kind of frustrating, having to do so much and not having enough time. Water Tribe is usually a way for me to vent some other art blocage, but I really don't have the possibility to do that for a while. I've run out of pages done in advance.
And wtf, my Photoshop is super slow today. May have to do some clean-up plus computer shut down.
*sigh*
Also annoyed by too much work, in that I'm shutting myself away. It gets lonely.
Bah, enough stupid self pity venting! Got to kick myself in the butt and make it all work!
Besides, whenever I'll manage to get back to Water Tribe, it will be fun stuff. Gotta look forward to what's ahead.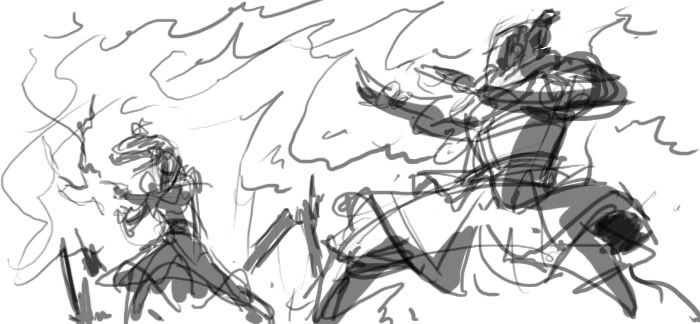 Showdown!
Because Zhao is not willing to pay the price Azula is asking for in exchange for the world. Whaddayaknow. He's greedy and wants to keep his tribe too. Can't have everything.