As I'm racking my brains to try and make a scene work (lots of doodling, most of it being dumped), I took a small break and doodled other things.

From last post,
grahf316 wrote:
Know, oh prince, that between the years when the desert drank the library and the gleaming cities, and the years of the rise of the Sons of Azulon, there was an Age undreamed of, when shining kingdoms lay spread across the world like blue mantles beneath the stars - Water Tribe, Earth Kingdom, Fire Nation, Air Nomads; the sun warriors, with their dark-haired women and temples of dragon-haunted mystery, Chin with its chivalry, Oma that bordered on the pastoral lands of Shu, the air temples with their secret-guarded crypts, Kyoshi whose riders wore steel and silk and gold. But the proudest kingdom of the world was Ba Sing Se, reigning supreme in the dreaming East.

Hither came Zhao the Water Tribe, black-haired, sullen-eyed, fire in hand, a thief, a soldier, moonslayer, with gigantic temper and gigantic muttonchops, to tread the jeweled thrones of the Earth under his sandalled feet, destined to wear the golden crown of Ba Sing Se upon a troubled brow. It is I, his chronicler, who alone can tell thee of his saga. Let me tell you of the days of high adventure!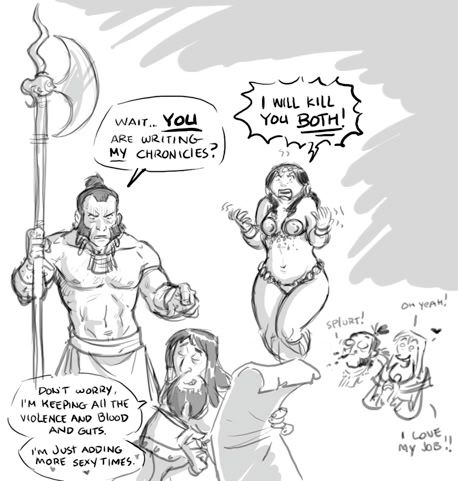 Then a fun little exercise. A colleague said to test how well you know your characters, send them over to a certain famous fast food chain and check what they order.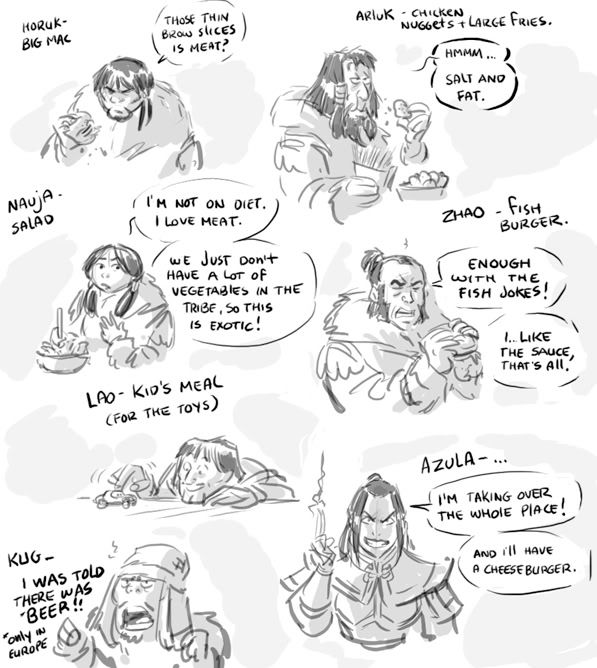 Zhao and Azula ain't mine, but I just had to add them in.
(I should do that with my other characters one day)