Must finish work. Possibly one day of overtime this weekend. Nothing big, it was expected, and overall everything is going well.
So...


Caught this variation of the fun idea to ask Original Characters some questions, but the answer having to be in sketch form.
I was tempted to bring in some older OCs, but I'll make them wait backstage a little bit longer.
I guess there's plenty of Water Tribe OCs to go around anyway.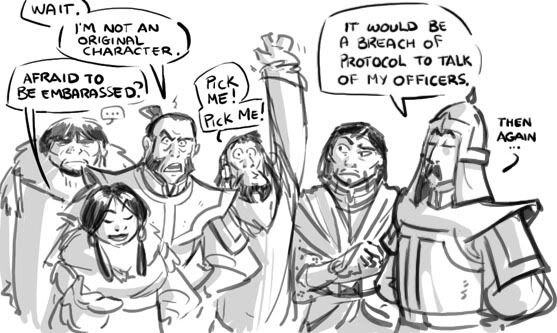 From the left: Horuk, Nauja, Zhao, Arluk, Lao and Kwon

EDIT: NO MORE QUESTIONs!
I want to go ahead and doodle answers for what is there right now.
May do this again in a future post. Many thanks for everyone who participated!
I'll try and post the other answers by tomorrow or this weekend.



In other news, I've been reading "The Terror" and enjoying it. Heck, forget television, that book is more fun!