Wanted to post loads of art tonight, but failed. Too tired, and too much to do. *sigh*. Tomorrow night then.
But today was still awesome (ok, the storyboard is not yet done, but still).
Just got a whole bunch of books from the french bookstore in Montreal- ah bliss! The joy of reading in french again! Two Tezuka books, including one hardcover Black Jack with colored pages! Also Zipang and Death Note. That's for the mangas.
In big european format, there is De Capes Et De Crocs- some of the best, wittiest writing in comics. Would love to share, but unless you do read french, a lot of its strenghts and beauty would be lost.
http://www.fantasy.fr/news/upload/actu/20071016-De-Cape-et-de-Crocs.jpg

Alim Le Tanneur (beautiful art and good story)
http://www.lambiek.net/artists/a/augustin_virginie/augustin_alim.jpg

And finally a new one, Les Aigles De Rome, drawn by Marini who does the beautiful book Scorpion. I'm giving this title a try because I liked his previous work so much:
http://www.krinein.com/img_oc/big/7947.jpg



I've decided to try a new look for the cover- Just a WIP at this point, but I'll try and clean it from there and fix some of the colors: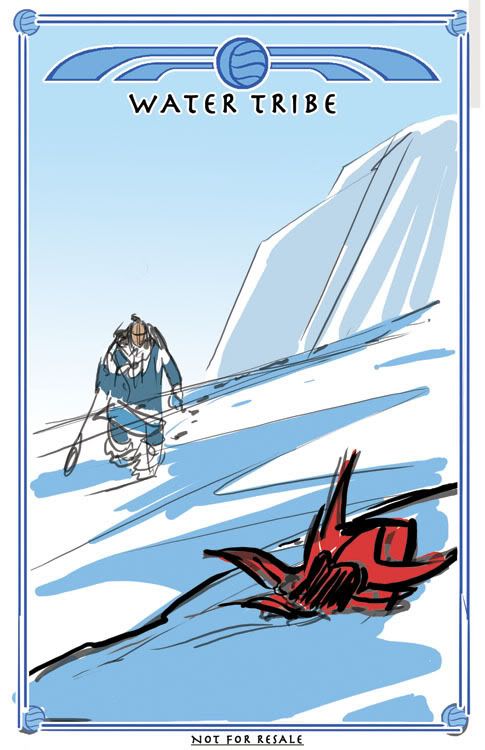 And now, some kudos for some hard working people:


mercurysblood Has done some amazing translation work, putting all the dialogue in Chinese! It looks really awesome-big round of applause and many thanks for taking the time to do so many pages.
http://mercurysblood.livejournal.com/tag/toc

Murielle on DA did a very nice Zhaoka piece, leaving the Northern Water Tribe under the watchful eye of the moon
http://murielle.deviantart.com/art/The-Pull-of-the-Tide-77771462

And
foxysquid whom I may never have thanked properly for writing "Two Spirits", a fanfic set in the Water Tribe AU.
I mean...to get an AU based on an AU, that is high praise indeed!

There are others, some I may have unintentionally missed (my apologies for that), and some I'm keeping as a surprise for the mini comic :D
Ok, sleepy time.

After I read some Tezuka.