The Avatar buzz is growing more and more, what with spoilers, more and more excerpts and adds, and the magazine making an early appearance at a few places: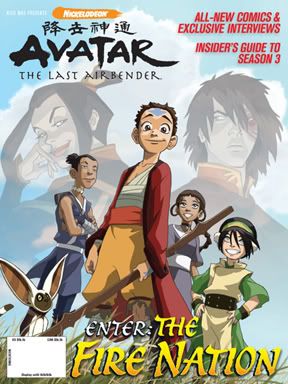 Working with Josh Hamilton on the Sokka, Bosco and Earth King story was a really fun experience. We kept throwing fun ideas at each others. Josh came up with very funny visual images that were really inspiring. It was a really nice collaboration- Josh is made of Awesome!

Some lucky people already have their hands on it. With a bit of luck, I should find them in stores next week, or the week after. What is sad is one the magazine places has closed up, so less chances of getting copies. Booooh!

What is interesting is reading people's reaction on different forums of these waves of new material. Who is making good guesses, some people who bitch and moan before even seeing one episode, a quite a few cringes about some new informations, etc...
And well, good reactions too, of course. Got to focus on these a bit.
Let's face it: not everyone will be pleased with the episodes or the magazines for a variety of reasons. Nothing can be done about it.

Unless one manages to sneak in Cake!Zhao. Then you know all in the universe will be well.



(he's got the profile to be put on a roman coin, heehee!)